St. Cloud Outdoor Signs
View Outdoor Sign Gallery
Fine D-Zign Signs creates the high-visibility, high-impact business signs you need for brand identification and awareness, as well as promotional signage to attract more clients to your business!
Your exterior signage should be designed with a specific goal or purpose in mind, either to build your brand visibility or to entice more customers inside. We design attractive signage that supports your brand and lets your potential customers know what you have to offer.
The exact signage blend that is best for you will depend on your physical location, budget, and business goals. You may need a building sign, promotional window graphics, an address sign, flag signs, vinyl door lettering, or other elements to promote your brand, products, and services.
Fine D-Zign Signs is your St. Cloud sign company partner for creating the right signs to help support your business goals. We help you stand out, whether it be from the businesses around you, or from the other distractions in your potential customer's lives.
Call Fine D-Zign Signs at 407-624-3796 for a Free Consultation with an Outdoor Sign Specialist!
Storefront Signs

Business storefront signs can be created in many different styles, from many different mediums.We make sure you have the right outdoor sign to attract more customers and promote your business or organization! Every business has unique exterior signage needs, and Fine D-Zign Signs can help you to understand the signage types and placement that will have the most impact for your business.
We make recommendations with a focus on sign longevity and durability, based on your desired placement. Your business storefront is the face of your brand, so an attractive, eye-catching sign that is brand reflective will help to attract the right kind of clientele for your business.
Channel Letters & Dimensional Letters
Many of our clients from a variety of niches request channel letters for their storefront or building signs. Channel letters are custom created by individual cut metal elements, such as letters, numbers, images, and symbols, perfectly aligned and secured to a support frame. Spelling our your name, slogan, or even including your logo in this type of sign can greatly increase your business visibility and help you to attract new customers to your location. With a wide variety of color, font, size, and style options, this an easy to customize outdoor sign for any business.
While used for many different business types, channel letters are most popular for retail stores, grocery stores, office buildings, shopping malls, business centers, schools, churches, and many other organizations.
Illuminated Channel Letters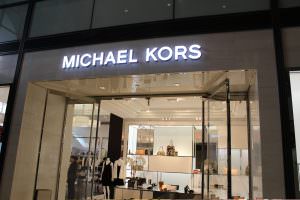 The channel within channel letters provides a unique opportunity for the individual elements to be illuminated from within. If you choose dimensional letters, which are cut from a solid sheet of material with no internal channel, these can still be lighted, but with LED backlighting. Lighted signs and LED signs help your business to stand out in bad weather and late hours, improving your brand visibility in any conditions.
Lighted signs are ideal for any business open late, such as nightclubs, restaurants, theaters, bars, convenience stores, coffee shops, comedy clubs, and gas stations.
Canopy & Awning Signs
Awning signs are a unique way to showcase your brand and business name while protecting your visitors and storefront from rain and sun. Canopy signs can be made from many different materials, such as metal or stretched canvas, and are designed to cover a specific area of your business, such as the entrance, windows, valet station, or any area where people commonly stand outside waiting. Fine D-Zign Signs creates attractive awning signage to match your business and brand.
Canopy signs can be used for the boutique feel they provide, or as a way to protect customers from the elements, making them popular for gas pumps, hotels, salons, jewelry stores, galleries, specialty shops, and shopping centers looking for uniformity.
Monument Signs
Monument signs are a free-standing signage element that is typically found at a business entrance. These durable, professional signs are custom manufactured from your choice of material, such as brick, stone, or marble. These signs are often intended to build visibility for businesses that may be set back from the road, and are typically large, permanent structures that convey the durability, professionalism, and longevity of your business. Monument signs have a wide array of options for customization, including the structure, text, lighting, and can even be outfitted with LED message centers or announcement boards so you can easily update your messaging at any time.
Impressive monument signs are frequently found at entrances to corporate offices, manufacturing plants, schools and universities, private clubs, churches, and resorts.
Pole Signs & Pylon Signs
Pole Signs and pylon signs are a high-visibility option that allows you to attract attention and customers from afar. Typically towering over the businesses and signs around it, these stand tall and are often a complementary sign used to grab attention from interstates and highways. Due to their impressive stature, pole signs are able to reach a wider audience than typical building signs, making them a great addition to any business that wants to improve their visibility and customer flow.
Pole signs are common for gas stations, shopping centers, fast food restaurants, and other high-traffic areas, such as those near major roadways and interstates.
Complete Exterior Sign Provider
Fine D-Zign Signs creates all of the attractive, business-building outdoor signs you need to promote your brand and increase your customer flow. Whether you are looking for promotional signage or business identification signs, we create attractive, cohesive business signage that performs a function for you.
Our outdoor signs include:
If you need more than just outdoor signs for your business, Fine D-Zign Signs also creates attractive, cohesive indoor signs to deliver on the promise your exterior signage has made to your potential customers and clients.
Full-Service Outdoor Sign Company
Fine D-Zign Signs provides complete exterior signage services, from your initial consultation through design, fabrication, and professional installation. We work with you to understand your signage needs, business goals, and budget so we can make the perfect recommendations for your needs. Whether you want to add a single sign to your storefront, or need your entire business outfitted with attractive, cohesive signs and graphics, Fine D-Zign Signs is your St. Cloud provider of converting business signs that help you reach your business goals.
Free Outdoor Signage Consultation
Your outdoor signs tell the world what kind of business you are, from your brand personality to your specific product/service blend. Make sure you are making the right first impression with attractive, durable, custom exterior signs by Fine D-Zign Signs!
Call Fine D-Zign Signs at 407-624-3796 for a Free Consultation with an Outdoor Sign Specialist!